Exploring a living relationship with landscape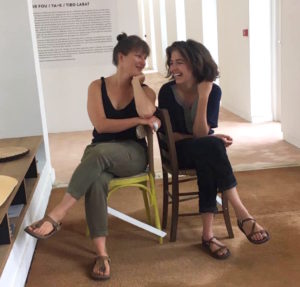 The Atelier was born from the meeting of our curiosities and approaches towards plants and landscapes. Both having roots around the Mediterranean, we chose to name the home of our explorations after Za'atar. Za'atar is a flavorful spice mix, loved and disputed all around the Mediterranean and the Middle East. It is made of sesame, sumac, salt and w ild herb going from thyme to oregano or even hyssop according to place.
Anna Lena Hahn is curious how hospitable landscapes form and develop.  She researches both on the ground and in the form of a doctorate.
Anna Lena carries a wide range of tools in her pockets: Sharp questions, melting boundaries and unfolding possibilities. Spices and recipes to concoct soups and stews that will warm bodies on the coldest of days. The wild and strong impetus to plant a garden, now, without any delay. With an academic background in philosophy, politics, economics and ecology Anna Lena has traveled through experiences ranging from consulting to running a restaurant and holding courses at universities.
Titiane Haton dedicates her attention to the wild plants of the Lot valley and offers to share this exploration with people of all ages and backgrounds. 
She sees and harvests wherever she walks and rarely enters the house without a lush bouquet of something in her hands. A talent in finding lost and forgotten things and bringing them sublimely into beauty. A night- and daydreamer with vivid imagination and an uncanny eye for aesthetics. Likes chocolate and olive oil, alone or together. Titiane moved from urban studies to holistic sciences, from gardening to wild plants from Paris, to London, to the small village of Balaguier d'Olt. It is here that she finds multiple ways of bringing together people and plants.